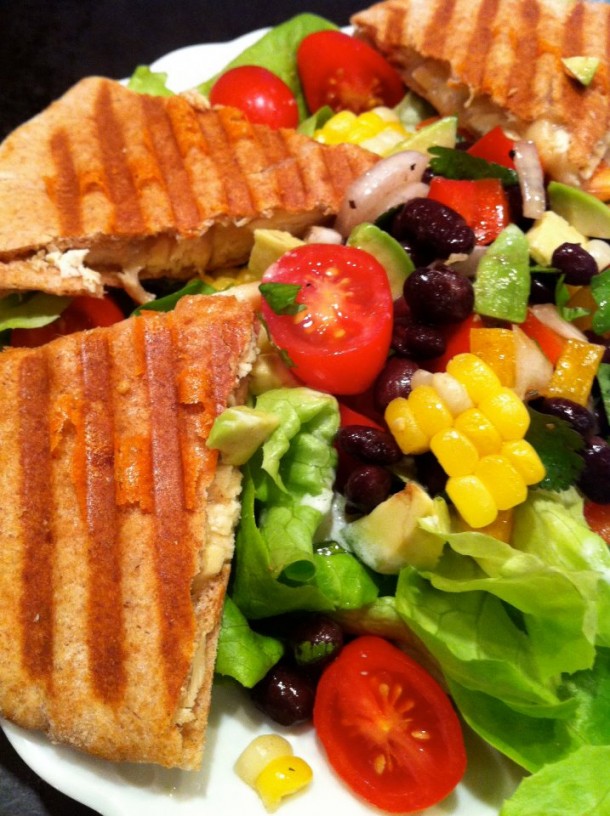 This is my FAVORITE restaurant salad, which I have remade to be healthy but seriously satisfying. I absolutely adore it. The salad incorporates my recipes for ranch dressing and black bean salsa and is an extra-easy dinner if you have leftovers from a roasted (or rotisserie) chicken. Use the salsa another night for a grilled chicken, steak, or fish topper or as a salsa for tortilla chips. The ranch dressing is another favorite in our house, although you may certainly substitute your favorite store-bought brand. I used to make the quesadillas with flour tortillas, but my new favorite way is to use whole wheat pita bread. A little cheese on the outside makes for a crusty and extra-yummy outcome.


Southwestern Chicken Quesadilla Salad
Mixed greens- romaine, or lettuce of choice
tomato grapes- halved
black bean salsa (recipes to follow)
ranch dressing
whole wheat cheddar chicken quesadillas

optional garnishes
:
avocado
chopped cilantro
salsa
black olives
Lightly toss lettuce greens with ranch dressing. Top with black bean salsa, tomatoes, and optional garnishes. Place a few wedges of quesadilla around the edges and enjoy!
Black Bean Salsa
:
1 red pepper, diced
1 yellow pepper, diced
1/2 cup red onion, diced
1 cup corn, frozen and thawed; fresh if available
1 15-ounce can black beans, rinsed and drained
1/4 cup cilantro
1/4 cup olive oil
2 tablespoons red wine vinegar
2 tablespoons lime juice
kosher salt and freshly ground pepper to taste


Whole Wheat Cheddar Chicken Quesadillas:
whole wheat pita bread
shredded cheddar cheese
cooked chicken, sliced or shredded
salsa for serving, optional
Carefully cut the pita bread in half horizontally. Rub a little olive oil on the outside of both halves. Layer cheese, then chicken, then a bit more cheese on one half. I use about a quarter cup of each, but you can eyeball it. Top with the other pita half and grill on a panini maker for three minutes. You can also grill one side at a time on the stovetop. A cast iron pan or grill pan will work especially well.


Tip:
For a crusty top, sprinkle about a teaspoon or two of additional cheese on top of the quesadilla prior to grilling.


Better-For-You Ranch Dressing
:
1/3 cup low-fat buttermilk
3 tablespoons 2% plain Greek yogurt
3 tablespoons mayonnaise
1 tablespoon apple cider vinegar
2 tablespoons canola oil
1/2 teaspoon kosher salt and freshly ground pepper to taste
3 tablespoons minced chives
Whisk all ingredients together and store in the refrigerator.
Stop by and visit anytime:
The Fountain Avenue Kitchen Blog
The Fountain Avenue Kitchen Facebook Page